Network Construction Continues in 2020
ECFiber enters 2020 with more than 4200 customers connected.
Our top priority is reaching as many un-served and under-served locations as possible, with a focus on back roads and outlying neighborhoods. ECFiber's focus this winter is on completing the 2019 build outs of Sharon, Royalton, Vershire, Tunbridge, Braintree, and Brookfield; 2019's main construction season will be followed by 80 additional road-miles in parts of Bethel, Hartford, Norwich, Randolph, Woodstock and Reading.
Click on your town to learn where you stand and how you can help bring ECFiber to your neighborhood.
Attention Customers: Winter Advisory

With the winter months upon us, for ECFiber to be able to continue delivering high speed internet to its customers, all customers who need maintenance or outside construction and indoor installation please provide the following:
Maintained driveway, this includes but is not limited to the following; plowing, and sanding
Move all personal belongings out of the path of the fiber from the pole to the house.
ECFiber is not responsible for tree trimming. Customers shall clear a path for the fiber from the pole to the home/utility box or hire a contractor to do so.
We understand these tasks can sometimes be a daunting with the undesirable weather, but for our employees to stay safe and be able to execute their jobs appropriately we need to ensure their work environment is safe. Thank you!
Who We Are
Banding Together For Fast, Reliable, and Affordable Internet
The East Central Vermont Telecommunications District (ECFiber) is a municipal body with 24 member towns in east-central Vermont.  We have banded together to build a community-owned fiber-optic network. We have contracted with ValleyNet, a Vermont-based non-profit communications company, to design, build, and operate the network. Our goal? Delivering fast, reliable, and affordable Internet to every home, business, and civic institution in our territory.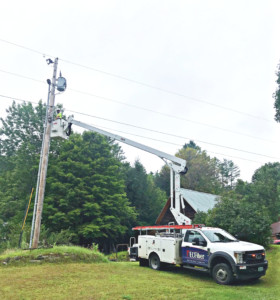 What We're Doing
Built by Vermonters, Owned by Vermonters, Run by Vermonters
Having secured $1M in insider startup financing in 2011, we built a 20-mile pilot project and connected our first customers.  As nearby neighborhoods asked to participate, we began to raise funds in $2,500 increments on a neighborhood by neighborhood basis, eventually raising a total of $7M from nearly 500 investors by 2015. The state of Vermont eventually provided over 100 miles of dark fiber as well as several grants totaling close to $600,000 as part of its connectivity initiative. In 2016 we became the state's first Communications Union District, The East Central VT Telecommunications District, thanks to legislation passed in 2015.
As a Communications Union District, we have been able to access the broader capital markets in 2016, 2017, and 2018, raising $32M in long-term (23 and 25 year) revenue bonds. Using this financing source, we expect to cover all the un-served premises (roughly 20,000 premises on 1400 miles of network) in our district by end of 2020.
Click here to learn more about our Mission.
Why We're Doing It
Our Livelihoods and Lifestyles Depend On It
We believe that every Vermonter deserves to have fast, reliable, and affordable access to the Internet.
In Vermont, we start and grow businesses in our homes and barns not in massive steel and glass office parks. Our children's education and development depend on services delivered digitally, engaging elementary-aged students through high school and beyond. Our property values are directly linked to internet speed and availability. Digital services such as education, healthcare, and communication will permit rural Vermonters of all ages to enjoy a satisfying lifestyle.
None of this is possible without fast and reliable access to the Internet.
To date, the federal government, state government, and legacy telecommunications companies have failed to provide this service to Vermont residents and business people. If private business cannot or will not create the infrastructure needed to support the Vermont lifestyle, local government and community-based organizations such as ECFiber can and will.