Back To School Special!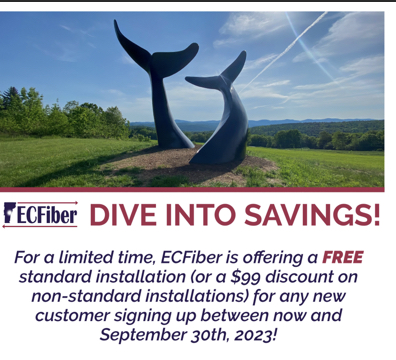 ECFiber is excited to offer FREE standard installation (up to a $99 value) to all new customers who subscribe between Aug 10 – Sep 30, 2023. In order to qualify, the following conditions must be met:
A Subscription form is complete and received before Sep 30, 2023. (https://www.ecfiber.net/subscribe/)
The subscriber is bringing service to a previously unserved location, or to a location where service was terminated in the past for a party not related to the new subscriber.
The subscriber takes on internet service at the Basic level or above.
The subscriber qualifies for a "standard installation" (aerial installation of less than 400' from the nearest service utility pole). ECFiber will determine at its sole discretion whether a subscriber qualifies for a standard installation. (See more details at https://www.ecfiber.net/how-to-connect-to-the-network/)
As part of the promotion, ECFiber will also discount a non-standard installation fee by the same $99 if conditions 1-3 are met.
The promotion is scheduled to end on September 30, 2023. ECFiber reserves the right to terminate this promotion at any time for any reason but will honor any subscriptions taken before such termination.